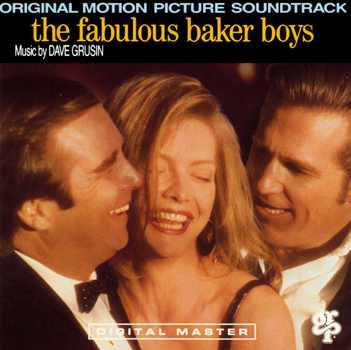 I bought this soundtrack on tape and wore it out so that I had to buy it on compact disc. I simply cannot get enough of this soundtrack.
Grusin does an excellent job of arranging the score. He knows how to create a mood with the music he plays. In fact, when you listen to the second track, Welcome to the Road, it takes you to where Suzie, Frank & Jack are hitting the road to play a gig over New Year's Eve. Grusin has wonderful way of conveying a moment through music whether it is a very serious pivotal moment as in track 8, The Moment of Truth, or a frantic moment as in track 4, Shop Till You Drop. Grusin is awesome.
Michelle Pfeiffer's vocals add another wonderful dimension to this soundtrack. Her voice is crystal clear and smooth. If anyone else sings Makin' Whoopee or My Funny Valentien, it will never be the same for me. I definitely wish that she would sing more.
It is also great to hear the following:
Do Nothin' Till You Hear From Me by the Duke Ellington Orchestra on track 7
Moonglow by the Benny Goodman Quartet on track 9
Lullaby of Birdland by the Earl Palmer Trio on track 10
All the featured musicians from Ernie Watts to Lee Ritenour on this soundtrack were great.
Dave Grusin should have won the Oscar for this soundtrack. I don't remember who won that year, but it didn't have as much of an impact on me. This soundtrack is definitely worth the money.